Car auction
As a car dealer you're always on the lookout to find a car auction with the best deals, right? That's exactly where CarCollect comes in to help. With over 5.000 vehicles online per day, our renowned sellers directly offer you a wide variety of vehicles that fit your needs. With a community that contains over 7.000 active traders, we enhance and maximize both your buying and selling channels in the smoothest way possible. Curious how? Find out yourself.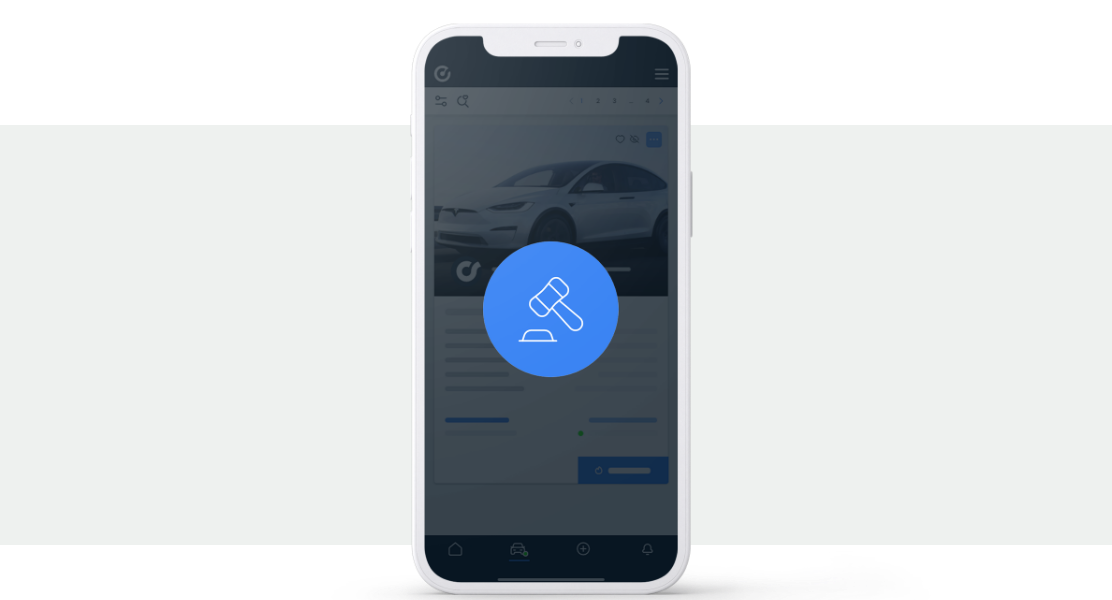 Streamlined car auction at CarCollect
CarCollect is an all-in-one B2B automotive platform, actively operating in 8 countries throughout Europe. With customers varying between official brand dealers, leasing companies, fleet owners, brand specialists, remarketing parties, and universal car dealers we streamline the entire vehicle trading process for all car dealers, all in one convenient place. From valuation to arranging transportation for a car you bought, and from managing your own auctions to placing unlimited bids, CarCollect handles it all. Our comprehensive solution connects supply and demand, facilitating you to never miss a profitable deal ever again.
Buying cars online with confidence
At CarCollect, we understand the challenges that come with purchasing a vehicle through online auctions. Unlike traditional auctions where you can appraise a car firsthand, evaluating a vehicle's worth and condition can be more difficult in a online car auction. That's why we have implemented several measures to ensure that our community of buyers and sellers can trade with confidence.
We believe in promoting fair and transparent practices, which is why we have introduced a fair use label that all users must agree to before gaining access to CarCollect. This label emphasizes the importance of providing accurate information about the vehicle being sold. If any user is found to be deliberately misleading others by offering false details, their account could get blocked, disconnecting them from our platform. This ensures that our platform remains a trustworthy space for all both all types of vehicle traders.
To further enhance the safety and security of transactions, we have integrated with several online payment providers. With these providers, every buyer on our platform can securely complete their payments once a deal has been finalized. This eliminates any concerns about fraudulent activities and ensures a seamless and reliable payment process for all parties involved. Obviously, you can also pay in cash if that's what you prefer as a payment method. It's up to you.
Direct trading without CarCollect
At CarCollect, we have also developed a unique feature called The Wizard. The Wizard is a comprehensive tool where sellers add all information about a vehicle before advertising it. It allows sellers to provide detailed information about their vehicles. Sellers can easily disclose any damages and include important notes about the vehicle's condition, both positive and negative. For example, if the condition of the interior is perfect, they can highlight that with just one click. On the other hand, adding damages is just as easy. By utilizing The Wizard, sellers can appraise their vehicles accurately and provide potential buyers with a clear understanding of what to expect. This transparency fosters trust between buyers and sellers, making it easier for buyers to make informed decisions and for sellers to build up a reliable image.
What sets CarCollect apart from other platforms is our commitment to facilitating direct transactions between buyers and sellers. In other words, you trade directly with the other company, without CarCollect getting in between the communication. This means that if any issues or concerns arise during the buying process, you have the opportunity to address them directly with the company or individual you traded with. We believe that this direct communication channel promotes open dialogue and allows for efficient resolution of any potential problems.
Car auctions meeting your needs
In a fast moving car world we understand that as a car dealer your needs vary on daily base. That's why we offer three types of auctions, designed to meet your needs and to make sure you always find what you're looking for.
General offer
The selling community that auctions their cars on the General offer auction, mainly contains of official brand dealers and brand specialists. Looking to buy or sell young, non-heavily used cars? This auction is your place.

Remarketing
Our remarketing auction is designed for leasing companies - like MHC Mobility - to sell their off-lease vehicles. As a buyer this is your chance to find young quality cars awarded within just 4 working days. Get yours!

Buy-Now
Buy-Now is a special auction we designed for our buyers to enable them to directly buy stock vehicles from our sellers. The biggest benefit of this auction is that you never have to wait long for a car you want; just buy it directly and arrange transportation with our transport integration. Buy your dream-car right now.
Would you like to sell? Then the process includes additional steps such as setting up your organization in CarCollect with locations, roles, and users, as well as a free non-binding Demo period.
The complete trading process - including documentation - in one platform;
Expand your trading network with our community and build new relations;
Different types of auction enable you to always find what you're looking for;
You can optimize your trading process by using integrations with our trusted partners;
The average conversion rate on CarCollect between 20% - 40%.
Transparency in pricing
We are a B2B automotive platform that prioritizes transparency and independency. When you buy a vehicle through our platform, you interact directly with the seller without any involvement from CarCollect. Our pricing system also reflects this transparency. As a buyer, you utilize our platform on a 'no cure, no pay' basis. Once you win a vehicle, the seller will invoice you an additional € 75 (excluding VAT). At the end of the month, we invoice each seller based on the number of cars they have sold, multiplying it by € 75. This approach ensures that we maintain transparency and independence in our operations.
Our pricing system at CarCollect benefits buyers by prioritizing their profits. Since we are not directly involved in the transaction and do not purchase cars ourselves, we do not charge high fees over a vehicle. Our pricing system ensures a cost-effective approach for all our buyers. This allows you to maximize your profits while enjoying the transparency, independence and safety of paying offered by our platform.
Essential
Sell exclusively on our Buy-Now auctions and pay no subscription fee, only a per-vehicle commission upon sale.
Starts at
€ 0 0 /month
Unlimited selling
(€ 100 per sold vehicle)
Most popular
Business
Our most popular subscription plan. Sell on all our auctions and receive a kickback per vehicle sold.
Starts at
€ 439 395 /month
starting at 15 auctions per month
(€10 kickback per sold vehicle)
Enterprise
The subscription for serious vehicle traders. Ideal for larger volumes and substantial profits.
Price on
Request Request
Unlimited selling
(€10 kickback per sold vehicle)
Payment methods that fit your preference
Buyers on our platform have the freedom to choose their preferred payment method when transacting with sellers. While online payments are slightly preferred, we also offer the option to pay the seller of your awarded car in cash. Whether you opt for convenient online transactions or prefer the traditional method of cash payments, it's up to you! We strive to ensure a seamless and adaptable experience for all buyers on our B2B automotive platform, allowing all payment methods you prefer.
What are you waiting for? Start bidding
CarCollect is here to revolutionize your car trading experience. By joining our community, you join the most active and passionate car community in Europe, enabling yourself to boost your buying channel and to never miss a profitable deal again. Sign yourself up on CarCollect.