Selling on CarCollect: This is how you become a great seller!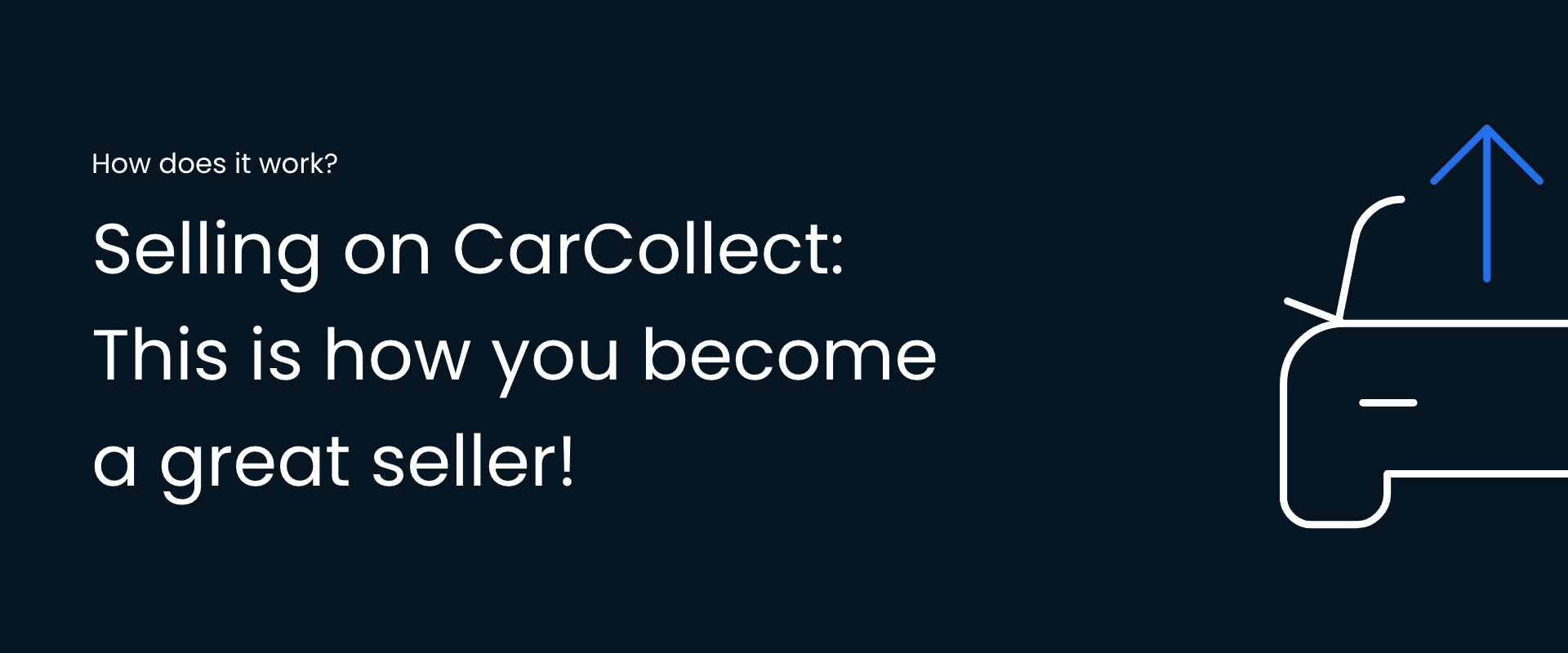 Selling on CarCollect: This is how you become a great seller!
You're going to sell or you're already selling through CarCollect! You're going to upload your vehicle on the platform. But how does that actually work? In this blog you will find some useful tips to get you started!

How do I upload a vehicle?
Uploading a vehicle through CarCollect is easy. Once you are logged in to CarCollect, you will see the dashboard. Here you will find your activities, open actions and company information. When you are on your computer you see a gray bar with different icons on the left side, including a + symbol. On your phone you will see this at the bottom of the bar.
If you click on the + you can start entering information. First of all, you have to enter the license plate number and the mileage of your vehicle.You will see that new fields appear after the check. Here you can enter the missing data yourself. In this step you can check if the version is correct, fill in a commercial title and specify the destination of the vehicle. Now you might want to know what the different fields mean exactly, we'll explain it to you:
Commercial title
The commercial title is placed under the version of the vehicle, after the lower case letters. This way, the CarCollect Community can see immediately what the vehicle's USPs are. In the commercial title. For example, does the vehicle have a panoramic roof or air conditioning? Put that in here. Make sure you always fill in something here.

CAPITAL LETTERS are eye-catching, don't you think? So, use them in your commercial title. If you have several USPs, you can name them consecutively by means of a vertical dash (|). An example of a good and clear commercial title: FACELIFT I LED I NAVI I CLIMA I AD.CRUISE


Destination


What is meant by destination internal or commercial? Here you specify whether the vehicle is visible to the entire trade network (trade) or only internally.

Agreements are often made about this within the company.


Branch
Here you can specify from which location the valuation will be done. The valuation will automatically be set to your default location. You never work at another office? Then you cannot choose anything here and it will be set automatically. Do you sometimes work at another office? Then you can indicate that here.
When can I publish a vehicle?
You have uploaded the vehicle and now want to provide it with the correct information, so that you can finally report it as complete. This is done by means of various steps that you go through automatically. Is the field of the step you are in green? Then you have completed all mandatory fields. Make sure that you fill in all the mandatory fields, as this is the only way to publish the vehicle. Still no green field? Then look in the digital trainer to see which information is still missing and update this. Note that the mentioning of damages is always mandatory!
STEP 1

Upload photos
A vehicle without pictures will not get any bids. That's why we ask you to provide 7 mandatory photos. You can upload multiple photos at once through our CarCollect Smart Upload or take photos one at a time and drag them to the right place. Do you have more photos? Then you can add them (max. 23) to additional ones. More photos are always better.
CarCollect Smart upload
Use CarCollect Smart Upload to upload multiple photos at once (up to 15 at a time). Through our Machine Learning, the uploaded photos will automatically appear in the right place.


Photographing the vehicle
Want to receive a good offer on your vehicle? Then also take the time for good photos. We clearly see that when better photos are taken, bids are also higher. This is because a clean vehicle is often clearer to see what the state is, it feels more familiar, and it is more attractive to make a good offer. Because to be honest, what would you do?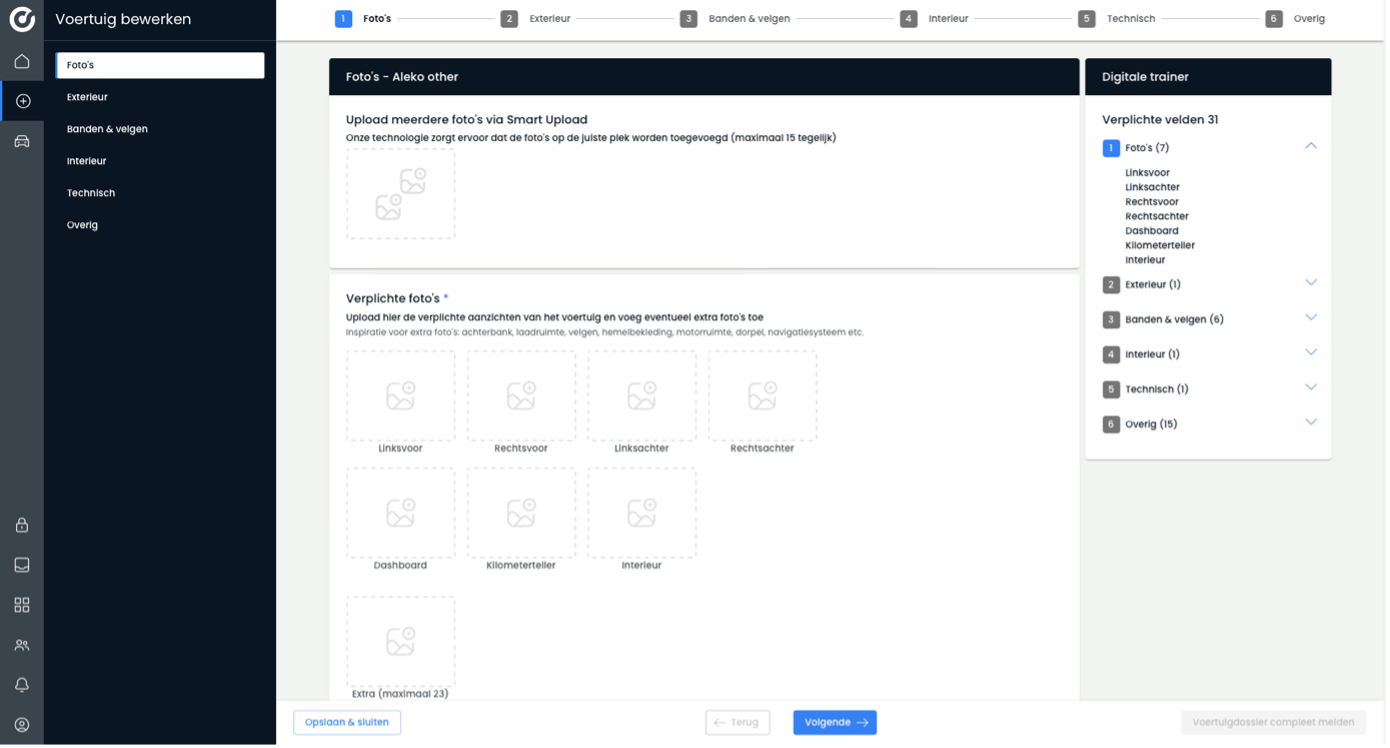 Did you know that the photo you upload for the left front is also the first photo that will be shown on the trading/offer page? That way it stays well organized.
STEP 2

Exterior
Does the vehicle have damage anywhere? You are obliged to report these damages. We have created a tool in which you can easily report all damages that are present. You can use the + to indicate where the damage is and what the damage entails by, for example, uploading a photo and giving more information about it. Is the vehicle damage free? That is also possible. Then click in the top left-hand corner that the vehicle is damage-free.
Exterior options
Check the boxes that apply to your vehicle. Any other comments about the exterior? If so, please add them to the comments. This can be positive as well as, for example, damages. Fill this out as much as possible so the buyer has clarity on any defects or additional options.
STEP 3

Tires & Rims
If the vehicle has damage to tires and/or rims, again you can easily indicate where any damage is via our tool. The vehicle has no damages? Then you click on damage-free.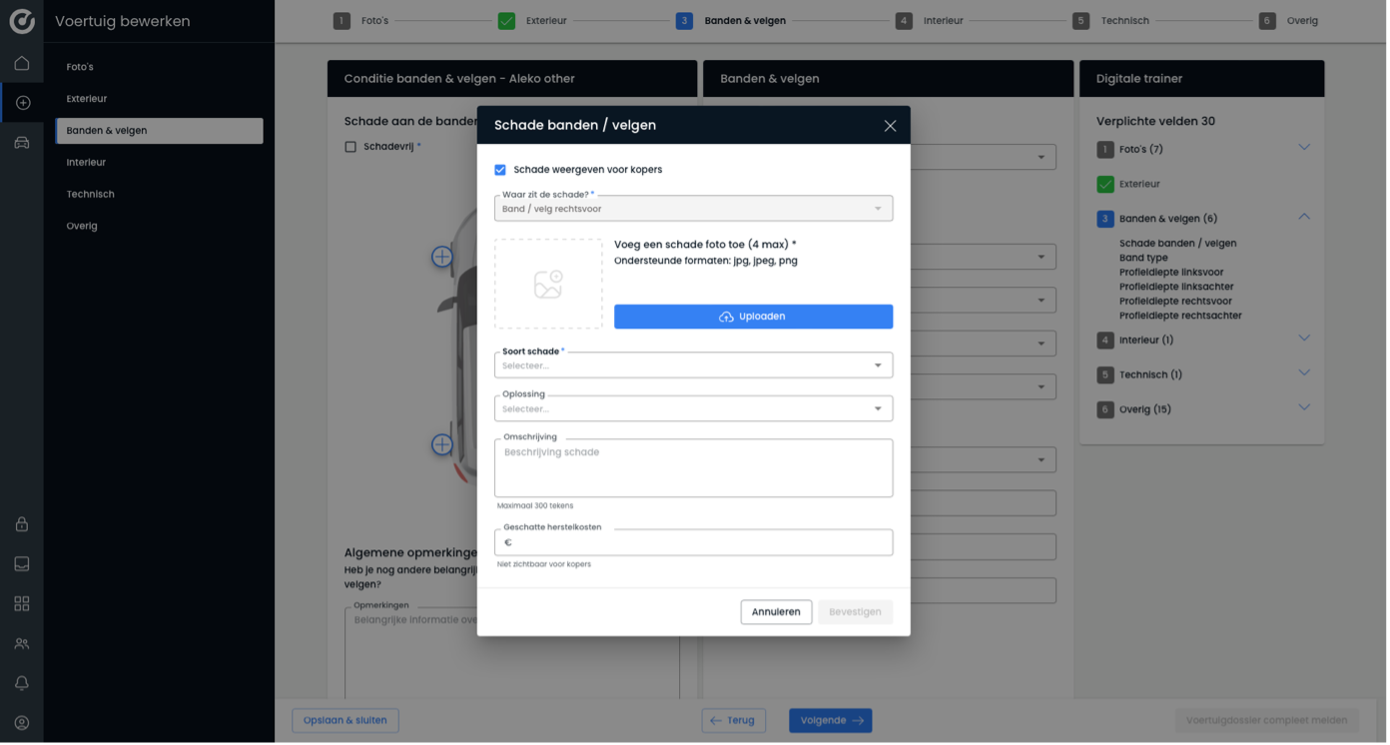 More information about tires & rims
We always ask what type of tire it is (summer/winter/all season). We also ask what the profile depth of the vehicle is. Give an estimate here (to be seen by eye): bad, moderate, good. In this we use the following:
<1.6mm (bad)
1,6 - 3,6mm (moderate)
>3.6 mm (good)
Tire details
Do you have a special vehicle with, for example, wider rear rims or something similar? Then you can indicate this at details or comments. Nothing special? Then the type of tire and tread depth will do.
STEP 4

Interior
If the vehicle has damage to the interior, you can easily indicate where the damage is, e.g. back seat, cargo space etc. by clicking on the plus sign. When you click on this you can provide more information such as a photo, type of damage and estimated repair costs. The vehicle has no damages? Then check the box "damage free".
Interior options
Here we ask for the most important options. Check the boxes that apply to your vehicle. Do you have any other comments about the interior? If so, please add them to the comments. This can be positive or for example damage.
STEP 5

Technical
Is there any technical damage? Like a ticking engine or a broken air conditioner? You can report these here. You can choose the type of damage that best suits the technical damage, such as leakage, noise, etc. You are not required to upload a photo here. We also understand that you cannot take a picture of a ticking engine. We automatically upload an exclamation point to let the buyer know that there is technical damage.
Technical details
If there are more details such as last service or replacement of timing belt/chain, please fill this in. This will give more assurance to the buyer. Are there any other comments about the technical condition of the vehicle? If so, add these to the comments. These can be either USPs or damages.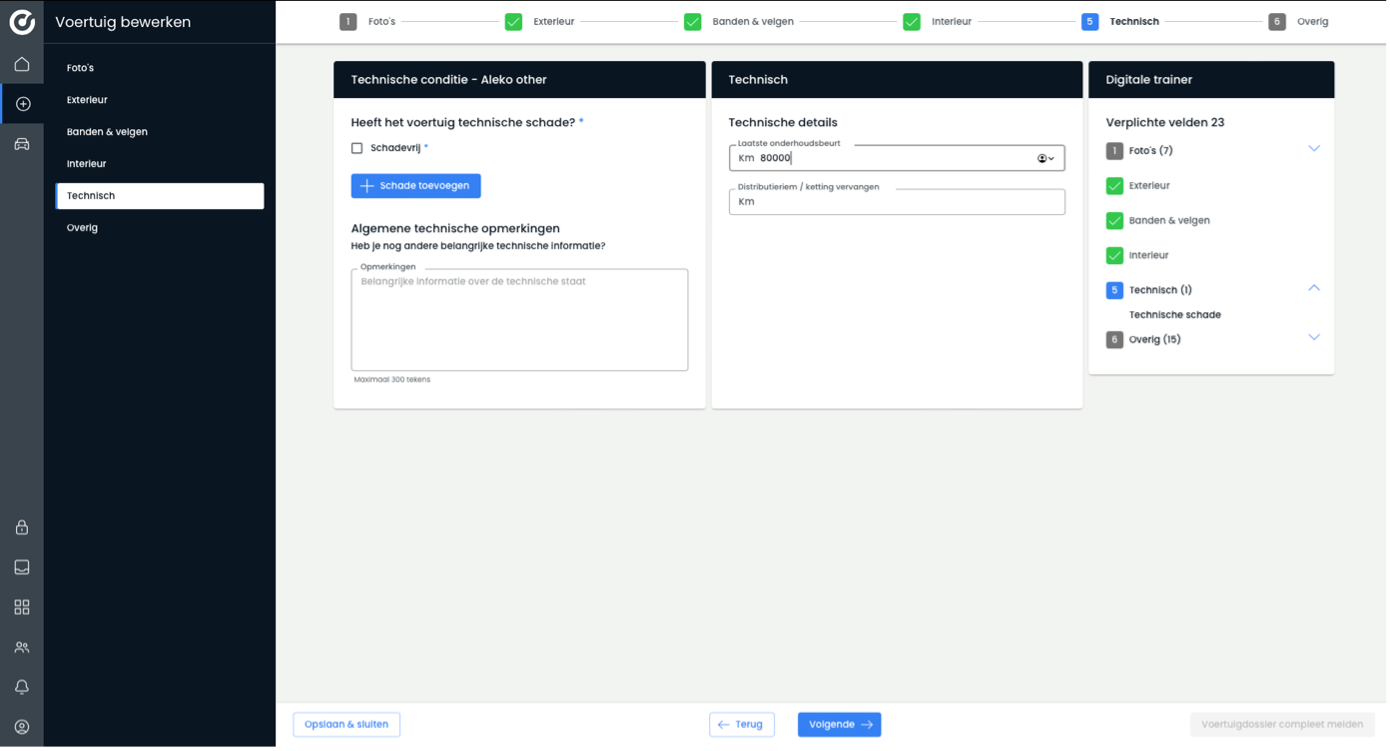 STEP 6

The last step!
To report the vehicle as complete, more information is needed. It may be that not all fields are automatically filled. For example, the color may not have been added. You can specify this manually here. Do you have any comments about the vehicle? Remarks can still be placed here, both internally and externally.

Mandatory fields
In this last step you are required to indicate a number of things, such as whether a master key and a spare key are present. You are automatically taken along by the digital trainer, something not filled in yet which is necessary? Then it will be indicated there.
Delivery date
This is the date you expect to receive the vehicle. Note: this is not the delivery date that the vehicle can be at the buyer. Plan the delivery date well. Is the vehicle in stock? Then plan the delivery date on e.g. 1-2 weeks.
Are you selling through Buy-Now?
Enter here the amount for which the vehicle can be sold immediately. You do not have a Buy-Now account? Then you will not see this option.

All green?
Then you can report the vehicle file as complete! Then your vehicle will appear in the offer/trading overview of CarCollect. The better the vehicle is described, the higher the chance of higher bids. CHECK if everything is correct at the moment the vehicle is online. Invite your favorite trade partners and let those bids come in!
Are you unsure about something or does it look a little different to you? Contact our Customer Success Professionals!