Our five frequently asked questions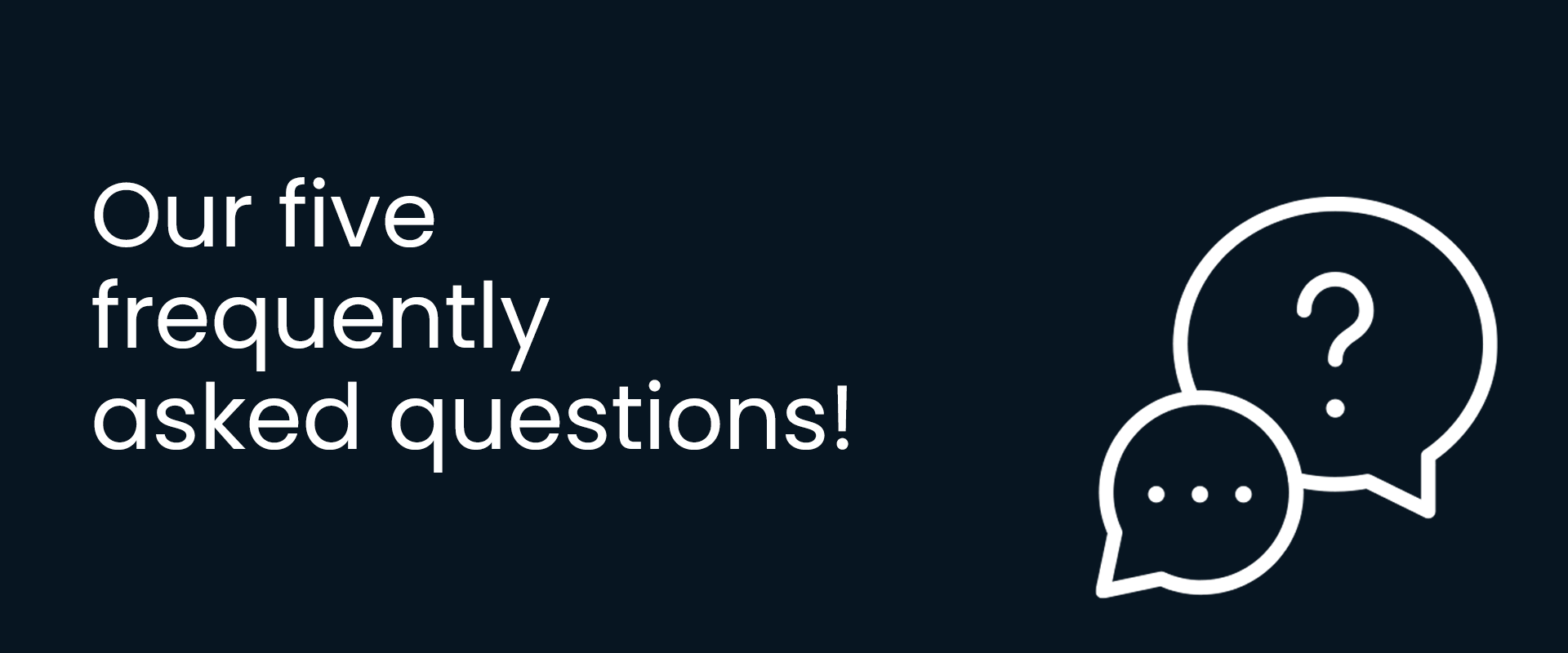 Our five frequently asked questions
On a daily basis our customer success team works hard answering questions asked by our users. As a result, we regularly receive questions that are asked more frequently. To get you started, we have highlighted five of our frequently asked questions. See our knowledge base here for all of our frequently asked questions.
Question 1
What auctions are there?
In order to achieve maximum trading revenue, CarCollect allows you to participate in different auction types. It is possible to participate in both open, closed auctions, and remarketing or you can buy directly through Buy-now.
Buy-now auction
The Buy-now auction, on CarCollect is mostly used by universal car dealerships. Within this auction you have the option to offer the vehicle at an instant buy price. Buyers have the option of purchasing the vehicle directly from you for this price, but they can also make an offer on the vehicle. Offering vehicles in Buy-now is effective when it is readily available, when it is already in your inventory for example.
Closed auction (bid not visible)
The most common auction on CarCollect is the closed auction. The closed auction is mostly used by brand dealers and leasing companies. The closed auction allows companies to offer their commercial vehicles, which buyers can bid on according to value. The closed auction consists of two categories.
General
In the 'General' category you will find vehicles, mainly from brand dealers, that have yet to be traded in. Did you know that CarCollect has a 1 to 3 success rate? We are proud of that!
Remarketing
Within 'Remarketing', ex-lease, damage, ex-rental and repossessed vehicles are offered. These vehicles are often available immediately.
The closed auction method, where buyers cannot see what the highest bid is, gives you a good idea of the market value of the vehicle.
Question 2
I can't find a vehicle on the vehicle overview
You may have accidentally clicked on something that caused the vehicle to go into a filter. For example, when you click on the eye near a vehicle, it is automatically added to a filter. So the car has not disappeared, but can be found in another place. To find the vehicle again look at "my CarCollect" at the bottom of the filter menu, on the left side of the page: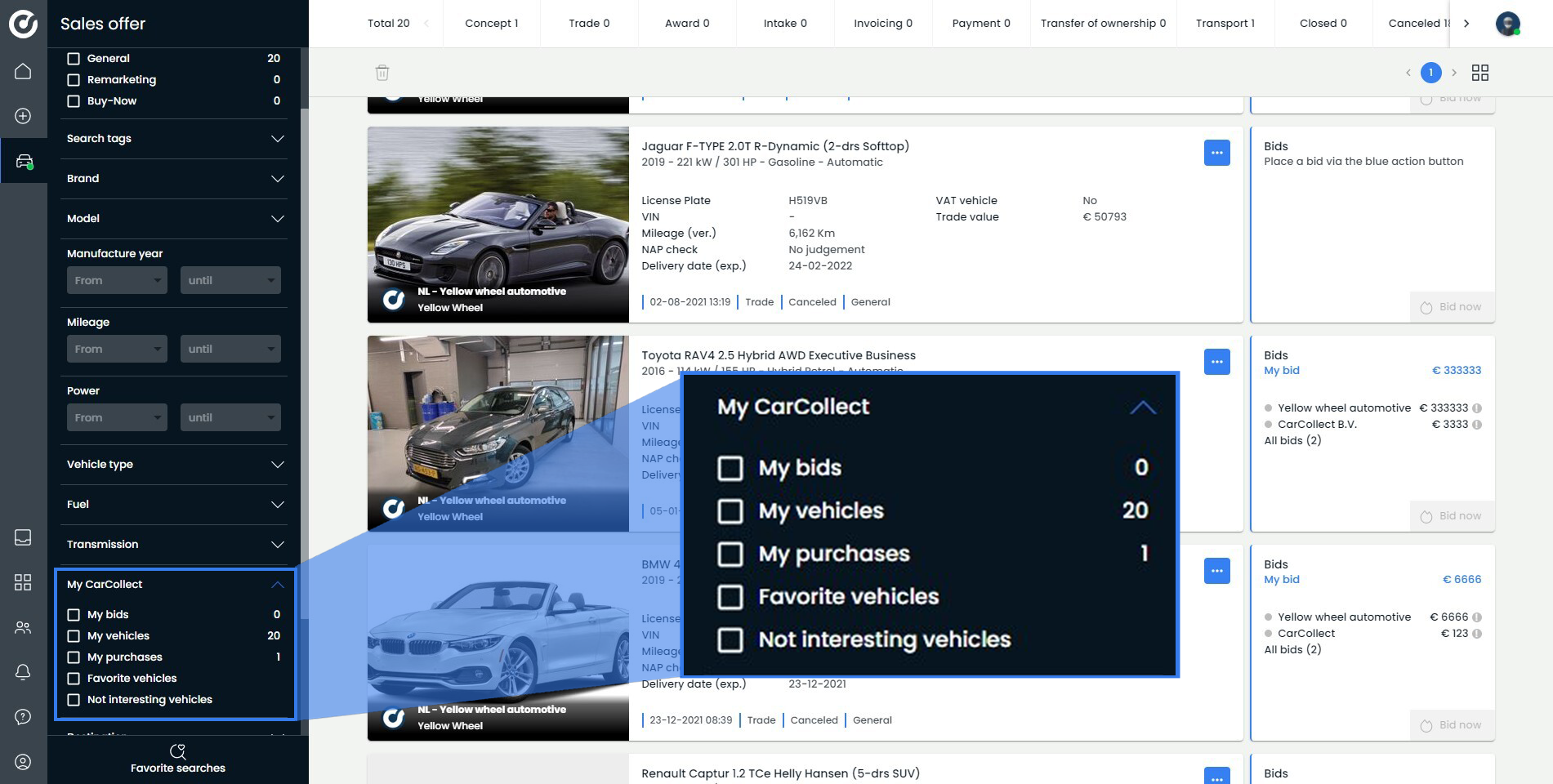 Here you can find filters for vehicles you have bid on, purchased or just vehicles you have excluded, for example.
Do you want the vehicle back in the general overview? Then click on the eye again and it will be there again.
Question 3
I am waiting for the payment of a vehicle
First of all, congratulations! You have sold a vehicle through CarCollect. The buyer has been notified that the vehicle has been assigned to her/him. It is now up to you to upload the invoice to CarCollect, with the vehicle in question. From that point on, the buyer has a two-week period to pay for the vehicle. The buyer will receive a reminder before the end, to make the payment complete. If the two weeks are exceeded, please contact the buyer to ask what caused this. If you can't work it out together, please contact one of our customer success specialists at support@carcollect.com.
Question 4
I have made payment for the vehicle, when can I indemnify it?
This can be done once the payment is received and processed by the vendor in CarCollect. For bank transfers, this is a manual action that may take several days to process. Therefore, please keep this in mind. Upon successful payment via the payment link, the payment is immediately registered by the platform and an email is sent that the vehicle can be safeguarded.
Question 5
I have scheduled transportation for a vehicle, when will it be delivered?
You have scheduled the vehicle for transport with our transport partner. They will now take over from CarCollect. With standard transport, a delivery time of 5 working days is applied. For special transports this may vary. You will always be informed of this during and well. Should there be any delay for any reason, you will always be contacted. If there is still something wrong with the transport, please contact us.
For all our other frequently asked questions, please refer to our knowledge base